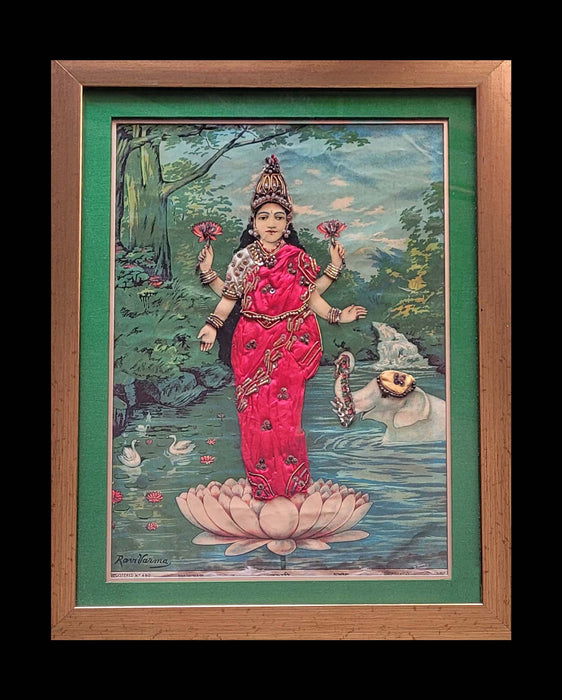 Goddess Lakshmi- Oleograph by Raja Ravi Varma
Sold out
Original price
Rs. 28,000.00
-
Original price
Rs. 28,000.00
Rs. 28,000.00
-
Rs. 28,000.00
Current price
Rs. 28,000.00
Raja Ravi Varma (1848-1906) created his oleographs so that the images of his paintings would be seen by as many people as possible. Ravi Varma had a printing press in Malavali, near Lonavala where his oleographs were made. This is before the time when off-set printing was introduced. The oleograph sheet picked up different colors from 17 to 18 lithograph stones, through a resist method of catching the colors. This was the way the oleographs were made. They were also called Chroma lithographs.
Utterly charming and unique, these oleographs can add grace to the walls of your home or make meaningful presents for loved ones.
Ravi Varma presented his goddesses in a manner to convey their pan – national identity at a time when foreign rule was being questioned in India.
Lakshmi, the Goddess of Wealth and Abundance, was portrayed standing on her lotus pedestal and rising above the elephants, draped in a style of sari relatively unknown at that time and which did not belong to any particular region or community, thus conveying a spirit of togetherness.
This oleograph has a prominent signature of Ravi Varma. It has vibrant colors further enhanced by the decorative gota work on it. 
Size: 13.5" x 17.5" 
Shipping,  All over India

Note:  All our products are meticulously handmade by master artisans, one piece at a time. Due to this process there may be variations, flaws and imperfections in the product. Such variations are inherent in the manufacturing of handmade products and should be celebrated for their uniqueness.Sculptures, paintings or any other accessories photographed along with the product are not included in the price