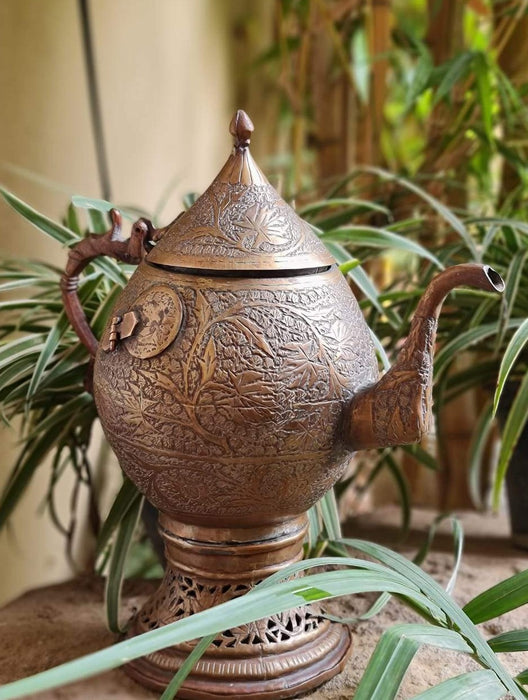 Vintage Kashmiri Samovar-1. Copper. Engraved
Sold out
Original price
Rs. 17,500.00
-
Original price
Rs. 17,500.00
Rs. 17,500.00
-
Rs. 17,500.00
Current price
Rs. 17,500.00
 This Samovar is essentially a Kashmiri variant of a kettle with hand engraved motifs which represent the cultural landscape of the valley. It has a chamber  inside, to keep coals  which heats up the entire kettle from the inside. It is often used to brew tea or the famed Kashmiri Kahwa
The strength of the Copper maintains the high temperature which is required to extract the complete warmth of the drink. This little samavar can also be used as a piece of home decor.
Vintage copper Samovar

Engraved sides and top

Jalli copper Base

In pristine condition 

Unusual Shape
Size: 7" x 12" x 13"
Shipping,  All over India
Note:  All our products are meticulously handmade by master artisans, one piece at a time. Due to this process there may be variations, flaws and imperfections in the product. Such variations are inherent in the manufacturing of handmade products and should be celebrated for their uniqueness.Sculptures, paintings or any other accessories photographed along with the product are not included in the price.