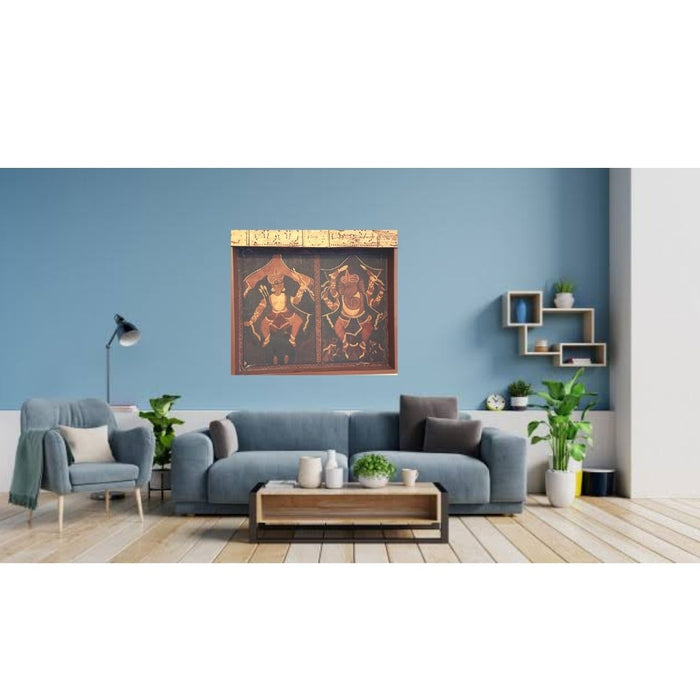 Kalighat series- Ganesh and Devi
Sold out
Original price
Rs. 25,000.00
-
Original price
Rs. 25,000.00
Rs. 25,000.00
-
Rs. 25,000.00
Current price
Rs. 25,000.00
Originated in the 19th century in West Bengal, these paintings were sold as souvenirs in the vicinity of Kali temple to the visitors. This style developed over a period of time as a distinct school of art depicting mythological characters. Kalighat paintings are a thought providing specimen of rural folk art but has reinvented itself in urban ambience.The painted figures have a plaque-like effect on neutral background given the shaded contours and articulated movements.Originally, the paintings depicted religious note, especially Hindu Gods and Goddesses. The goddess Kali in her various famous is one of the most vivid representations of the Kalighat style. Over time, these paintings were used to express social sentiments.
This unusual painting with Devi and Ganeshji on a dark background showing both of them having weapons in their hands.
This dated piece is attractively framed with a carved panel on the top.
A collectors item.
Size: 25" x 28" Framed
Medium:
Shipping,  All over India
Note:  All our products are meticulously handmade by master artisans, one piece at a time. Due to this process there may be variations, flaws and imperfections in the product. Such variations are inherent in the manufacturing of handmade products and should be celebrated for their uniqueness.Sculptures, paintings or any other accessories photographed along with the product are not included in the price.