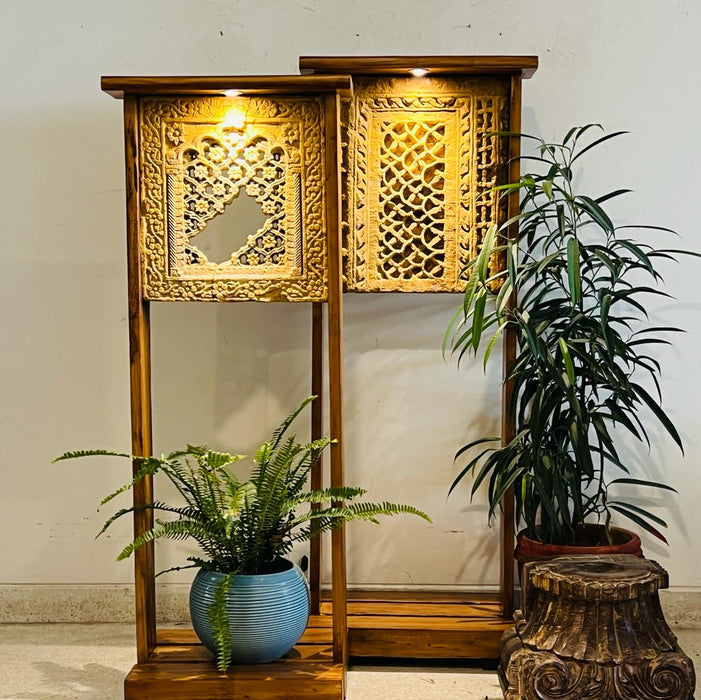 Ruhana 3 : Stone Jali pedestal ( Sold individually)
Save

0

%
Save %
Original price
Rs. 16,500.00
-
Original price
Rs. 16,500.00
Rs. 16,500.00
-
Rs. 16,500.00
Current price
Rs. 16,500.00
This intricately carved  Stone Jali pedestal is crafted from Jaiselmer stone, and is designed to illuminate from the top.

It features a damaged center and a space at the bottom for displaying items. Perfect for adding a unique and traditional touch to any home.



Size : 12 x 15 x 44  Inches
How to Use Pedestals ?
If you're not sure what to do with negative space, feel like a room is missing something, or want to add height without bringing in a tall plant, adding a pedestal is an easy way to elevate your interior, while displaying interesting objects.
They're really a useful design element that is often overlooked. They are well  styled next to a door, in a hallway, for an unused wall , or squeezed into the corner of a room. I think layering is the name of the game when it comes to pedestals. They instantly make your home feel thoughtful and interesting.
a lamp

a stack of books
a lantern
candles (tapers or pillar candles)
upright artwork (with an easel)
a stack of magazines
a plant
a floral arrangement
a vase or urn
a sculpture
a tray or bowl
Shipping,  All over India
Note:  All our products are meticulously handmade by master artisans, one piece at a time. Due to this process there may be variations, flaws and imperfections in the product. Such variations are inherent in the manufacturing of handmade products and should be celebrated for their uniqueness.Sculptures, paintings or any other accessories photographed along with the product are not included in the price.